International Maritime Associates, Inc.
What we do
International Maritime Associates (IMA) was formed in 1973 to provide market analysis, strategic planning, business development and project implementation support to clients in the marine and offshore sectors.
We provide advisory services to
identify and evaluate new business opportunities
benchmark position on the competitive landscape
evaluate strategic positioning options
develop and implement a plan of action
assess potential acquisitions and strategic alliances
identify sources of project financing
Our clients include equipment manufacturers, shipbuilder/repair yards, technology firms, financing institutions, transport providers, service companies, facility operators, others.
We have the proven capability to work with a client from concept development through contract closing and project implementation.
Our experience
Over the past forty years, IMA has completed over 350 business consulting assignments for more than 170 clients in 40+ countries.
Many assignments have been for repeat clients. They include more than a dozen assignments for the World Bank, eight assignments for Siemens and more than twenty for the Japan External Trade Organization.
Some have been long term relationships. For more than twenty years we had an unbroken company-wide consulting relationship with MAN AG, a major German engineering group. We have also had multi-year relationships with FMC, McDermott, Saipem, Allis Chalmers, Marinette Marine, Intsok and other companies.
We have had numerous successful projects. Here are a few examples.
Container terminal contract - A Lebanese investor asked us to assist in structuring a consortium to bid for the contract to take over and manage the new container terminal in Beirut. We structured the consortium, it won the contract and we played a key role in closing the deal. Terminal throughput has tripled to more than 1 million TEU since takeover - and our client has expanded terminal operations to four countries and now employs over 1000 personnel.
Shipyard acquisition - We were engaged by a major US steel company to evaluate a planned acquisition of a large US naval shipbuilder. Following evaluation, we recommended against the acquisition based on the risk of cost overruns on projects being performed by the shipyard and lack of strategic fit with the client's principle business focus. The CEO wrote to us later to say our study "was the best investment made by us this year."
Marine diesels sale - A large US manufacturer of heavy machinery asked us to evaluate the potential of entering the slow speed marine diesel market. We made the evaluation, recommended a strategic alliance and played a major role in obtaining the contract for three 44,000 bhp engines. These were the largest diesel engines built to date in the USA.
FPSO Investment - We assisted an investor in evaluating the risk associated with taking an equity role in a large FPSO project in Brazil. At issue were the terms of the FPSO lease, risks in the conversion contract with the shipyard and provisions in the partnership agreement. Also of issue was the potential of the unit to remain on field through the option period and the probability the FPSO will find redeployment when it comes off field.
Offshore project support - For an Italian client we assisted in resolving issues associated with utilizing a non-Jones Act qualified heavy-lift/JLay semisubmersible to install a production spar in the Gulf of Mexico. We coordinated efforts to obtain a positive Customs ruling approving use of the unit for the project and the installation was successfully completed. Subsequently we assisted the client in obtaining a similar ruling for use of a large Italian-owned deck barge on an installation project in the Gulf of Mexico.
Shipbuilding cost management - The US Navy engaged IMA to audit the process and organization structure employed to plan and manage the multi-billion dollar naval ship construction program. Utilizing 25 professional staff, we performed a one-year intensive audit of the shipbuilding program, recommended changes to improve performance and briefed top officials in the Navy, Office of Secretary of Defense and Congress. All recommended changes were implemented.
Container terminal sale - We advised the Maltese Government in designing and implementing the sale of the large government-owned container terminal in Marsaxlokk. Over a period of 18 months we played a supportive role in developing the sale process, short listing bidders, selecting the best bidder and negotiating terms of the final contract. The terminal was sold to CMA CGM and the transaction is widely considered to be a very successful privatization of public assets.
Port operations improvement - IMA was asked to assess ways to improve the operations and efficiency of Doha Port in Qatar. Our client had the contract from the Port Authority to provide stevedoring services in the port. We were asked to identify procedures and infrastructure deficiencies that hinder port operations and recommend a comprehensive plan for port improvement and reorganization. Our ten-point plan of improvement and restructuring has been fully implemented and our client now manages all terminal operations.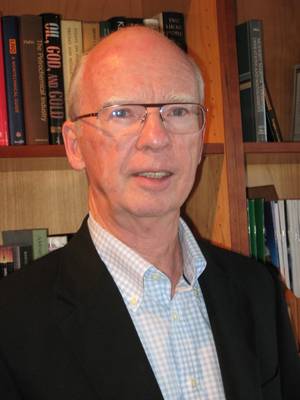 Professional Staff
Jim McCaul, Managing Director, founded IMA and plays a major role in all projects IMA undertakes. He has extensive market analysis and strategic planning experience in the maritime and offshore oil/gas sectors - and has managed more than 400 consulting assignments in over 40 countries.
Jim has a PhD in economics from the University of Maryland, an MS in business administration from Pennsylvania State University and a BS in marine science from the State University of New York Maritime College. He also has a professional mariner's license from the US Coast Guard.
Prior to forming IMA, Jim was on the faculty of Webb Institute of Naval Architecture, where he taught economics and helped establish the Webb Center for Maritime Studies. Earlier he taught transport economics and market research at the University of Maryland.
Professional support on consulting projects is provided by core IMA staff and highly experienced personnel with whom IMA has established long term working relationships. They include professionals with hands-on operational experience in the oil and gas sector, equipment manufacture, supply chain logistics, shipbuilding and repair, port and terminal operations and financial structuring.
International Maritime Associates, Inc.
3131 Connecticut Ave NW #2115
Washington D.C. 20008 USA